Spotify has made a major announcement, they are now including the ability to leave ratings on podcasts!
Their press release opens, "As we near the end of 2021, there's one more feature we're excited for you to see—one that you (and your fans) have been asking for: podcast ratings on Spotify! You can now invite your fans to show their love for your podcast with a single tap, which can help you quickly gauge how your show is resonating and send a signal to listeners who haven't yet tuned in."
The Historic Problem with Podcast Ratings
One of the most frustrating things for podcasters and podcast listeners has been the lack of ability to give or receive ratings for shows on other platforms.
For the past several years, podcasters have had to rely on asking listeners to "leave a 5-star review on Apple Podcasts!" – a call to action which would only be relevant to the 20% of listening audiences who utilize that specific platform. 
In 2020, the most commonly used app for listening to podcasts in the United States was actually Spotify, with 25 percent of podcast listeners aged 18 or above saying that they used Spotify to listen to podcasts. 
This shift comes in the wake of Spotify's efforts to double down on being recognized as a home for podcasts. 
Between February 2019 and 2020, alone Spotify spent 600 million U.S. dollars on podcast-related acquisitions.
(Platform Statistics from the Statista Research Department, 2020)
The latest decision to add ratings marks another step toward cementing themselves in that position.
What is the Spotify Rating Feature?
Spotify's press release explains that "listeners will appreciate having the option to show their love for a podcast they're enjoying, and now they can do just that—quickly and easily. From any show page in the Spotify app (iOS and Android), they can simply tap to rate a show one-to-five stars, as long as they've listened to at least 30 seconds of an episode."
They are also encouraging podcasters to promote this action to their listeners. The announcement continues, "You can finally give your listeners encouragement to leave a rating—not just via your social media channels but directly in your show's audio: intro, outro, or anywhere in between! Here are just a few ideas that can be tailored to incorporate your show's voice and tone:
'Thank you so much for listening to [show name]. Make sure to rate us everywhere you listen to podcasts, including Spotify.'
'Thank you for listening to our show. If you like what you're hearing, make sure to rate our show on Spotify.'
'Do you like this show? Let us know by leaving us a rating on our Spotify show page.'"
How to Rate a Podcast on Spotify
Leaving a rating on Spotify is EASY. In fact, you should try it out right now on the Build Your Network podcast!


Here's how it works: "As podcast ratings roll out globally over the next few days, listeners will be able to add their rating right from the show page on Spotify—by either tapping on the rating directly or the three-dot menu below the podcast cover art."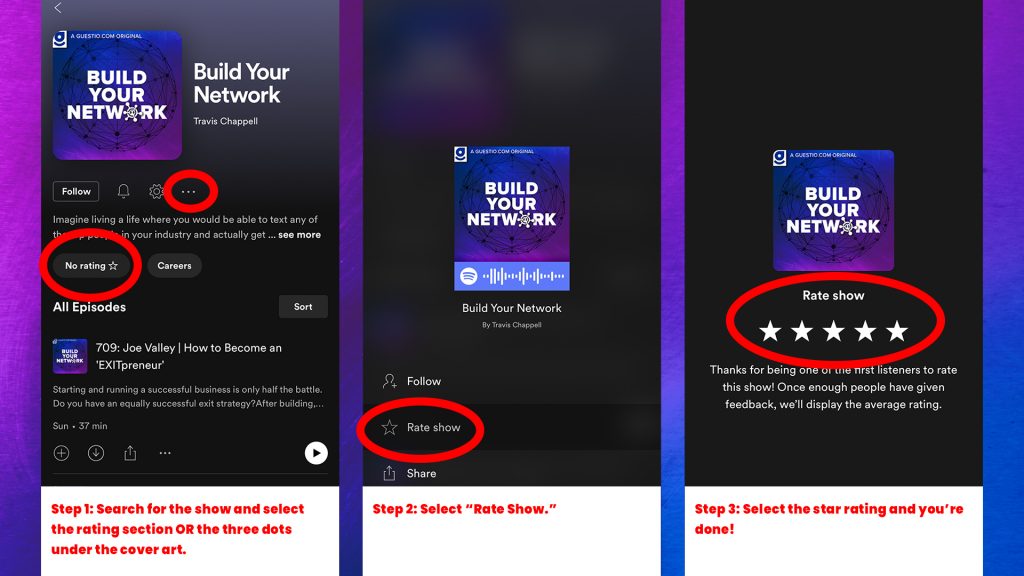 "Creators will be able to check their rating at any time from their Spotify show page, once it's received 10 ratings. And that's it! There's nothing more to do, other than to keep the five-star content coming."
What Do You Think of the Change?
How will this Spotify update affect your approach to podcasting? Are you excited about the change? Let us know in the comments!