A note from the author: This article is informed by my extensive knowledge of all 94 episodes of Sex and City, the feature films Sex and the City and Sex and the City 2 (which is deeply underrated, in my opinion), and three episodes of the new series, And Just Like That. It was written with a cosmo in hand and should be read in the same fashion.
In 2018, I sat down in a movie theater to watch David Gordon Green's Halloween. The film opens with two true-crime podcasters attempting to get Michael Myers to "say something!"

It stood out to me as the first time I'd ever seen podcasting – a relatively new medium – represented in a film.
It also stood out to me that the "podcast" these two are recording in Halloween probably has terrible audio… I mean talking quietly with a Zoom H4N two feet away from you outdoors is probably not the best approach.
I digress.
Anyway, fast forward to this year, and podcasting is everywhere you look.
Aria Bracci noted this in an excellent article for The Verge recently, "True-crime podcasts drive both Chucky and the new Hulu show Only Murders in the Building, and Carrie Bradshaw co-hosts a podcast in the revival of Sex and the City. In non-fictional spaces, a certain controversial Spotify host got plenty of broadcast news coverage throughout the year, and Hot Pod even made an appearance on Today. Podcasting abounded within both fictional depictions of our world and the institutions that document it, despite there still being tons of non-listeners out there — and maybe even because of that."
Enjoying the article? Take a second to share:
Trust me, I could write at length about the Chucky series and the way it uses true crime podcasting in the narrative (maybe another time). But for now, I want to focus on And Just Like That. The Sex and the City revival on HBO Max is the latest show to use podcasting in its storyline, and I think it was a very wise direction for the series.
What I Like About The Podcasting Storyline
If you've clicked on this article, you're likely the type of person to know that in Sex and the City, Carrie was a best-selling author and columnist for the fictional New York Star.
From 1998-2004, having a column in a major New York newspaper would make you something of mega-influencer. You see this played out in the show often – with people Carrie encounters often praising her and saying things like, "I love your column!"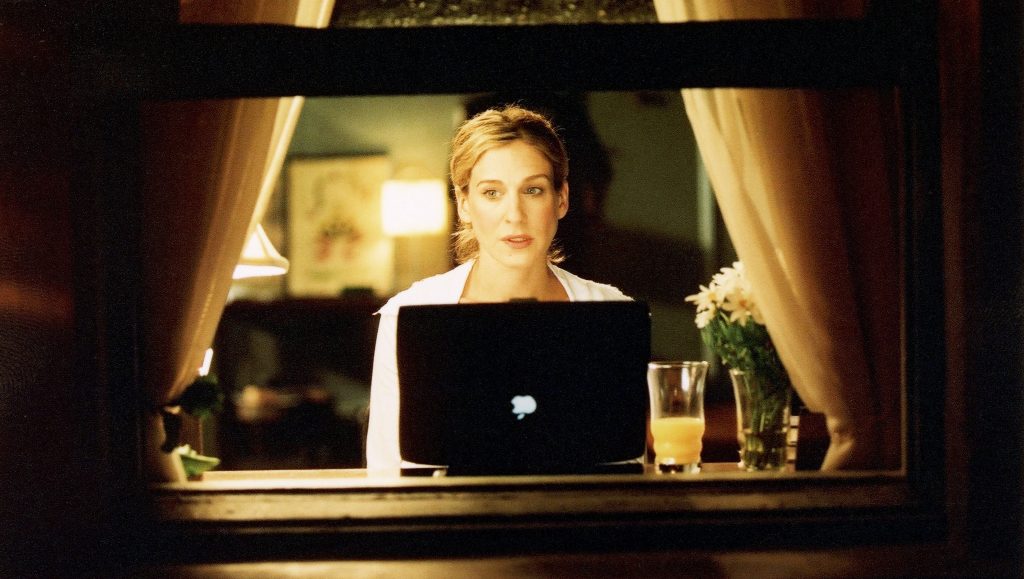 But And Just Like That comes to us nearly two decades later, picking up in post-pandemic New York, and each of the returning characters on the show are fighting for relevance in their own ways.
Miranda (Cynthia Nixon) is trying to adapt to college life in her fifties – stumbling over pronouns, accidentally making politically incorrect remarks, and confronting her own long-held beliefs about who she is.
Charlotte (Kristin Davis) has quite a bit on her hands as well, grappling with parenting in the 21st century.
Carrie (Sarah Jessica Parker) is no different. And her trying to hold her place as an influencer in a brand new world makes up a large portion of the story. For the first time, we see Carrie truly feel like a fish out of water when it come to making a name for herself in pop culture – whether it's remembering to keep up with her new Instagram or stepping out of her comfort zone in the podcast studio.
The latter of which was a strong career move. Especially given that 57% of the U.S. are podcast listeners now.
Having a hit podcast in 2021 would give someone far more notoriety than a newspaper column in 1998 – and could prove far more lucrative. Especially considering that the sex and relationship podcast, Call Her Daddy is consistently in the Top 10 charts and was bought by Spotify for nearly $60 million dollars recently.
This was the most realistic direction they could have taken her in this time period for the series. It was a smart bit of writing.
And putting her alongside real-life podcaster, Bobby Lee, in the show (who I could also write an entirely new article about) helps sell it.
What I Dislike About The Podcasting Storyline
But look, I'm not without my gripes about this storyline either – and if you can't tell by now, I have THOUGHTS on this series. If you expected a puff-piece editorial, you were sorely mistaken.
Buckle up.
I love Carrie being a podcaster, believe me I do. But there is one element that frustrates me like none other.
In the pilot episode, we see an awkward recording session in the studio between Carrie, Che Diaz (Sara Ramirez), and Jackie Nee (Bobby Lee). Afterwards, Carrie is confronted by Che, who tells her to step her game up – albeit, in a slightly more colorful way.
Che then references an "interview" that Carrie had when she auditioned to join the show as a host and tells her she needs to loosen up (again, in a slightly more colorful way), implying that if not, she will lose her position.
Herein lies my deepest frustration. As I watched the scene, my hand slowly tightened into a fist. I raised it to the heavens and, with all my might, bellowed, "WHY?!"
Why… why… why… is THE Carrie Bradshaw being shoved around by some podcasters?
Surely she had the name recognition to go out on her own! She could have easily converted her writing desk into a makeshift podcast studio, for less than $83 mind you.
She could have built the show on her existing name recognition, booked great guests (using a tool like Guestio), built a listenership, outsourced the production work to a third party company, and monetized without the need for studio time, co-hosts, and all the expenses and revenue splits her character is likely facing. Not to mention avoided the creative pressures to create content that she isn't in line with.
I know what you're thinking: "Eric, you're over-analyzing the show. Your nitpicking at a side plot on a series."
And you know what?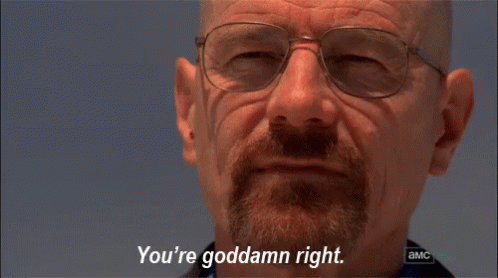 And just like that… the article is done. But I want to hear from you. What are your thoughts on depictions of podcasting in film & tv lately? And more importantly, what are your thoughts on And Just Like That? Drop them all in the comments below!